I had planned to complete the cabling looms for all the in-cockpit indicators today.
As far as cockpit wiring goes, I have tried to keep it as 'modular' as possible. My job necessitates frequent house changes, and it was an original design criteria to make my pit portable. I have designed and fabricated it so, (that) I can take it apart in a day. Putting it all together again, will take a little longer though.
Each of the sub-panels (Left/Right Lower Console, Left/Right Upper Console have their own micro-controllers/HID controllers and the Main Instrument Panel has two HID controllers (Leo Bodnar BBI-32 and BU083X boards).
All the 'control' wiring for each sub-panel is self-contained. Each panel connects to the main cockpit through three connections, one for power another for USB, and one for all indicator/annunciator lights.
The layout of the wiring for each panel, has gone through a series of iterations. Each time, I had to completely take apart my old wiring, and redo it all over again. But, I think, I have now gotten it right. Just about.
A few pictures of the annunciators cable harnesses are posted below. It was a LOT of work.
The Phidget controller board supports 64 outputs, and I have used each one of those. That is a total of 128 pins to wire up. Of all the wiring tasks for this pit, this one took the cake, by a lot of margin.
I'm glad, it's finally done.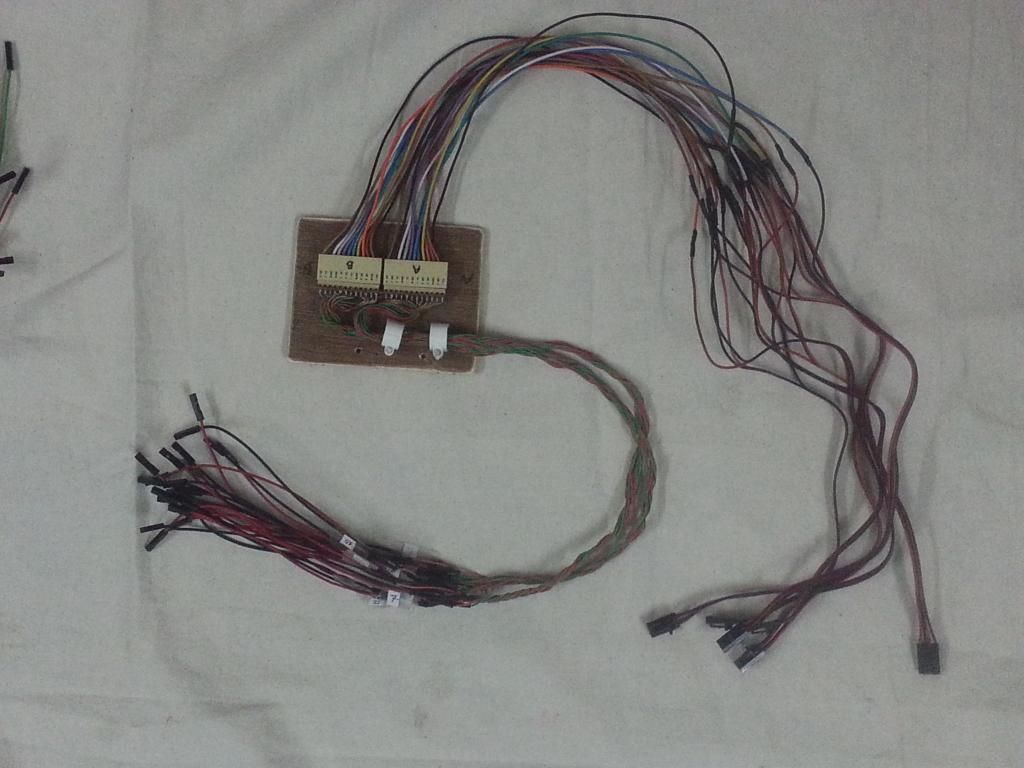 The harness for 'Caution Panel'
Will connect all 12 caution indicators on the panel.
The two 12 pin connectors are the interface between Left Upper Console Panel and the main pit
Harness for the Left Annunciator Panel on the Front Instrument Panel
Harness for the Right Annunciator Panel
Harness for the 'Select Jettison Panel' including Flaps/Gear Indicators
This harness doesn't incorporate the 12 pin connectors since it's a part of the main pit itself.
While taking apart the pit, all I need to do is slide out the pin connectors, which are just push fit.
All of them in one picture
Still need to make individual cable for the APU lamp, Gear Flasher and the Hook lamp. But, these are going to be individual cables with quick dismount fittings to interface. Plan to finish them tomorrow, after work.
Will start mounting the cable harnesses during the week, and hope to finish it in the next weekend.